The Lewis Ashley Group team are experts when it comes to modular buildings, providing a superb range of standard and bespoke compliant volumetric accommodation systems.
From education, health, local and national authorities, through to the private and construction industries, the team has the designs and expertise to more than fulfil your requirements across a whole spectrum of industries.
We can provide single modular buildings, or a complete multi storey turnkey package throughout the UK from the conception through to the installation.
Our design capabilities allow for the creating of modular buildings that are aesthetically pleasing, meet local and national design criteria, which create environments people want to work in.
The Process
Our process is straight-forward – allowing us to take an effective brief and deliver a building that meets your requirements.
Brief
We take your brief and understand all of your requirements as part of your project.
This includes aesthetic and environmental factors, as well as how you will use the building to ensure we can maximise its potential.
Our process is focused on finding a right solution for you, not just simply providing the best fit.
Design
Design is an important stage. Where many will simply group rectangular buildings together, we'll look at a modular building which maximises efficiency and capabilities.
We have a range of materials to make sure it creates an architectural solution which is right for you.
This way, the design is adaptable and works for you.
Build
The way that we construct our buildings allows for efficient completion with a quick turnaround.
Whether it's to start a major construction or rail project, install a new classroom within the school holidays, or a new changing room ahead of the new season – we will build it to your timescales.
Installation
We deliver UK-wide and provide a fast installation service to ensure you are up and running as soon as possible.
Our installation team works with you so we leave you with a fully-functional building as outlined in the brief.
We'll even be able to come and take it down for you if you're looking for a temporary solution.
Why modular?
Modular buildings are designed to be quick and effective to install – but customised to your requirements. Every project we undertake will have a unique requirement which we will be able to accommodate for.
Units can be purchased outright or leased – meaning that you can get the extra space you need without a large initial outlay. Additionally, full service contracts are available so there is no repair, maintenance or upkeep for you to consider.
We've invested in ensuring our team is able to work with the latest technologies in modular building – improving air quality, providing comfort and creating energy-efficient buildings.
External Wall Finishes
Our modular buildings can accommodate a wide range of external finishes either to match an existing facility, or provide a unique architectural solution.
Click here to view full details >>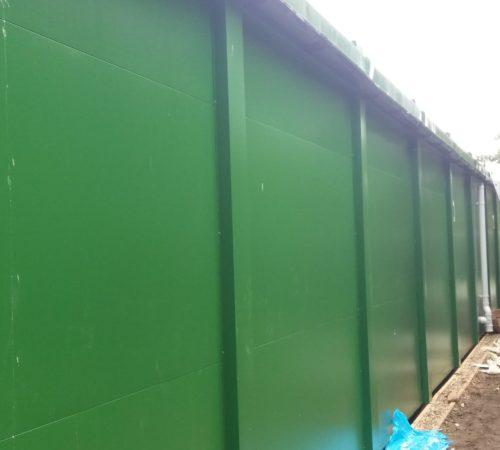 Roofing Systems
We can provide various roofing systems all of which can be either installed in the factory or on site, depending on the design and style.
Click here to view full details >>
External Door Systems
Available in self coloured uPVC, natural timber and powder coated aluminium, external security facilities for doors can be provided to meet your specifications and requirements.
Click here to view full details >>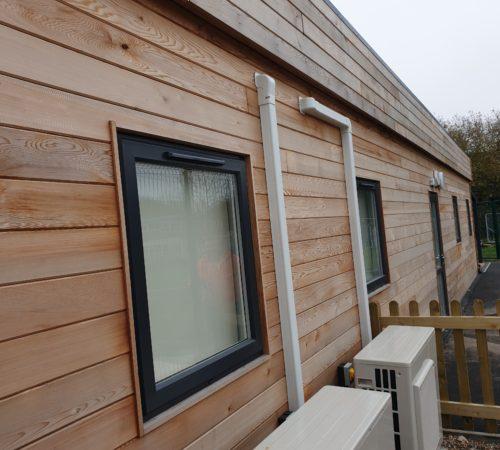 Glazing
Any type of glazing can be included as part of our design service.
Click here to view full details >>
Some of the industries where we've made a difference
The benefit of a modular building is that we aren't restrictive to which industries we can support. The industries below give you examples of what we are capable of and shows you our way of thinking when it comes to providing solutions for companies of all sizes.